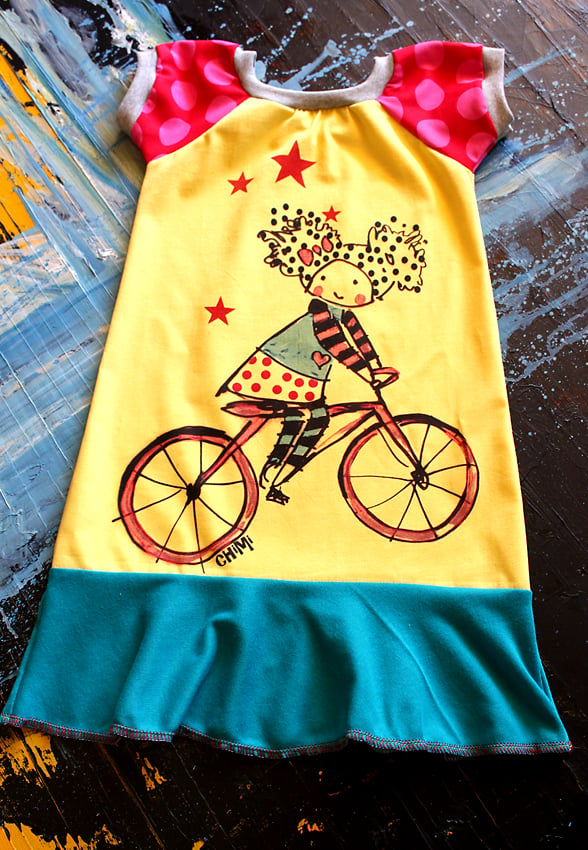 chimi BIKe looooove - spring limited collection 2014
$

48.00

/ Sold Out
---
DESIGN*********************
2014 limited edition _ chimi bike., - .....- original art by sofia kollstedt
COPYRIGHT - TRADEMARKED 2014 chimi&changa graphics. does not entitled buyer to copy and/or duplicate - for personal use only - resale allowed in original state -
cutting and upcycling into dresses for re-sale commercially not allowed - under the protection of trademarked laws*************
SHIPPING*********************************************

please allow 3-4 weeks - hopefully sooner - working hard to ship all orders a little bit faster :D
shipping international...not available right now but hopefully in the near future - thankYou for understanding
SIZING***************************************
the dresses are cut bigger than store sizing...a-line if you like fitted dresses order a size down

size 12-18 months - 18"-19"
size 2 - 22" LONG
size 4 - 24' long
size 6 - 26" long
size 8 - 28" long
size 10 - 30" long

chest mesurements APPROX.....size 2 -10 -11" across, size 4 - 12", size 6 - 13", size 8 14", size 10 - 15".......

ALL MEASUREMENTS ARE APPROX....give and take an inch
FABRICS************************************************
100% cotton knits
SEAMS are professionally serged
GRAPHICS********************************************
approx printing size is 12x16 shown on photo -smaller for small sizes........ and print has all different colors as shown on pics.
there might be extra lines dots that come from my hand sketch scan
printed directly to the fabric..., no iron heat tranfer, washer and dryer safe. iron safe - colorfast. environmentally friendly made in the usa inks.
QUESTIONS********************************************
please email any questions to sofia @skolsted@aol.com
please feel free to coontact me directly if you have a question about your order....we looooooooooooooooove you are shopping with us today and want you to loooooooooooooooove your order 100%
thanks for all the looooooooooooooooooooooove
EXCHANGE/RETURN POLICY*****************************
please contact us 7 days from receiving your order
no exchange or refund unless we made a mistake on our part thank you for understanding.........all dresses are handMADE to order.......pet and smoke free home studio:D